Everything I need to know, I learned at the Big Four Concert. Skeptical? Of course you are. Read on and see if you agree.
1. Classic is always perfect
. Whether it's a little black dress or
Anthrax
opening with
Caught in a Mosh
, you can't go wrong with a classic. This rule applies to everything from sweater sets to appetizers. Which would you prefer, the Tasty Toothpick Tower?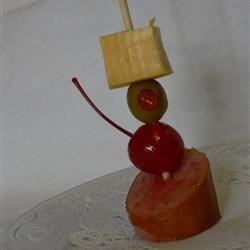 Or the Baked Brie?
2. Scale is Important. Big Guys look great with big accessories. Can you imagine Kerry King in a thin gold chain? Of course not. His gigantic neck would swallow it up. Likewise, make sure your accessories match the scale of both your stature and your look.
"It's easy to ruin an otherwise great outfit by choosing the wrong accessories. However, on the flip side, it's easy to make an ordinary outfit look great with the right accessories. "
3. Medical Set-backs are not the end of doing what you love; but you may need to do what you love a bit differently.
Slayer

's vocalist/bassist,

Tom Araya

's ... diagnosed as a Cervical Radiculopathy, an occupational hazard for the rocker who is known for aggressively swinging his long mane of hair (headbanging) while performing. Right after the first of the year, Araya made the difficult decision to undergo a surgical procedure, called an Anterior Cervical Discectomy with Fusion...
and here he is, six months later rocking hard in Sofia, Bulgaria. Yes, his head didn't even bob, let alone bang; but he was on stage, entertaining thousands and based on the huge grin on his face he was loving every minute of it.
4. Look people in the eye. Engage your audience.
My one small complaint about the Megadeth set is that Dave Mustaine didn't interact with the crowd or even look up. Whether your running a meeting or teaching Sunday School, it's vital to look at your audience and connect with them. Singing to your shoes won't win you any (new) fans. In contrast, Slayer's Jeff Hanneman gives the impression of a really shy guy, he even turned away from the crowd and faced the wall while doing a solo, but he made a strong effort to look at people and engage them.
5.
Hedge your bets.
An amusing quirk I noted during the Anthrax set was that whenever lyrics would pop up like "go to hell" or "burn in hell", Joey Belladonna would cross himself and make a "just kidding" face. (Perhaps lesson
5.5
is that even rock stars acknowledge the existence/possibility of a Higher Power.) So my suggestion is to fall in love in high school AND go to college. Practice your bass guitar for hours a day AND get a law degree. It never hurts to diversify.
6. Consider Context.
Angel of Death (Slayer) was a little hard to handle knowing that they were playing in an area that sided with the Axis power during WWII. Although they managed to save their entire native Jewish population, Bulgaria occupied Yugoslav and Greek territories and had those Jewish people deported to the Treblinka death camp in occupied Poland. I can't say it's a song I would have chosen.
Auschwitz, the meaning of pain
The way that I want you to die
Slow death, immense decay
Showers that cleanse you of your life
Forced in
Like cattle
You run
Stripped of
Your life's worth
Human mice, for the angel of death
Four hundred thousand more to die
Considering context can make the difference between accolades and apologies.
7. Show Respect, pay your respects and acknowledge your influences and inspiration.
Some of the best moments of the Big Four concert was when Scott Ian, Lars Ulrich, Dave Mustaine and Kerry King talked about the great bands that came before them (Zeppelin, Kiss, Sabbath and others) and inspired their love of music. There was also a touching tribute to Ronnie James Dio who died of cancer last month. Lars talked about meeting him for the first time when he was ten and how nice he was, how he took time to talk with him and how that experience totally blew his mind. Each of the musicians had great memories of Dio and they were happy to take the focus off themselves and move it to honoring their heroes. As a blogger and a crafter I know that any "new" idea I have is only because I am standing on the shoulders of greats like
Crafty Chica
,
Alisa Burke
,
Pam Carriker
(and so many more). It was a beautiful and touching reminder to acknowledge and honor those influences.
7. Be Yourself.
Rob Trujillo is awesome in his weirdness. I loved him in Suicidal Tendencies and I LOVE him in Metallica. That said, I was really worried that he would be consumed by Metallica and stop being so strange. I am pleased to report that he's still letting his freak flag fly.
Sure, his jersey is black now - not red or green or white - but his essential Rob-ness is intact. No matter how cool a group you join, don't forget it's made better by your uniqueness. Don't be a sheep.
8. Time heals all wounds and no hurt is so great that friendship can't overcome it.
Seeing Dave Mustaine and James Hetfield standing shoulder to shoulder, guitar to guitar, was such an incredible, unexpected Kumbaya moment that it gave you faith in humanity. There are literally thousands of posts this morning that start with, " I never thought I'd see the day...". It made peace in the Middle East seem possible.
"This shows the power of brotherly love and forgiveness,"
I thought I'd end with a clip of the landmark moment when representatives of all four bands played together. I doubt it's work safe due to language (consider yourself warned!) Hope you like it.
So there you have it, life lessons from the Big Four concert.