My dear friend
Angela
presented me with this blog award: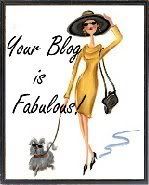 Thank you so much, Angela. You're too kind. Ladies be sure to check out her blog, she makes the cutest cards and has a
shop on Etsy.

Now to fulfill my blog award duties *grin* List 5 of my addictions and tag 5 worthy winners.
1. Hummus
2. Trashy books (Sookie Stackhouse, Anita Blake, Carpe Demon Series, Hannibal... you name it)
3. My computer
4. Paper crafts - I'm a scrapbooking, card making, altering fool.
5. Long sleeve shirts under plain t-shirts. Comfy, warm and washable.
Now to my choices for winners. And they are.......
1.
Laura O
~ Talented, sweet, cool.
2.
Godelieve
~ her blog is where I go when I need inspiration.
3.
Sparkle
~ you have to check out her cards... WOW!
4.
Tiff
~ again, awesome card maker and you must check out her Etsy inspired challenges. So cool!
5.
Lauren
~ Oh my heaven, this gal is FUNNY and overflowing with creativity.
I was also tagged by
Heidi
for a photo tag thingy (yes, thingy is the technical term) Here's how it works:
1. Go to your Picture Folder on your computer or wherever you store your pictures.
2. Go to the 6th Folder, then pick the 6th picture in that folder.
3. Post that picture on your blog and the story that goes along with the picture.
4. Tag 6 other people that you know or don't know to do the same thing and leave a comment on their blog or an e-mail letting them know you chose them.
So here is my picture:
Years ago I had
ipopmyphoto
make a pic of my boys into an ipod style image. I still think it's way cool :-)
I'm going to tag
Cindy
,
Claudette
,
Sarah
,
Barbara
and
Laura
.